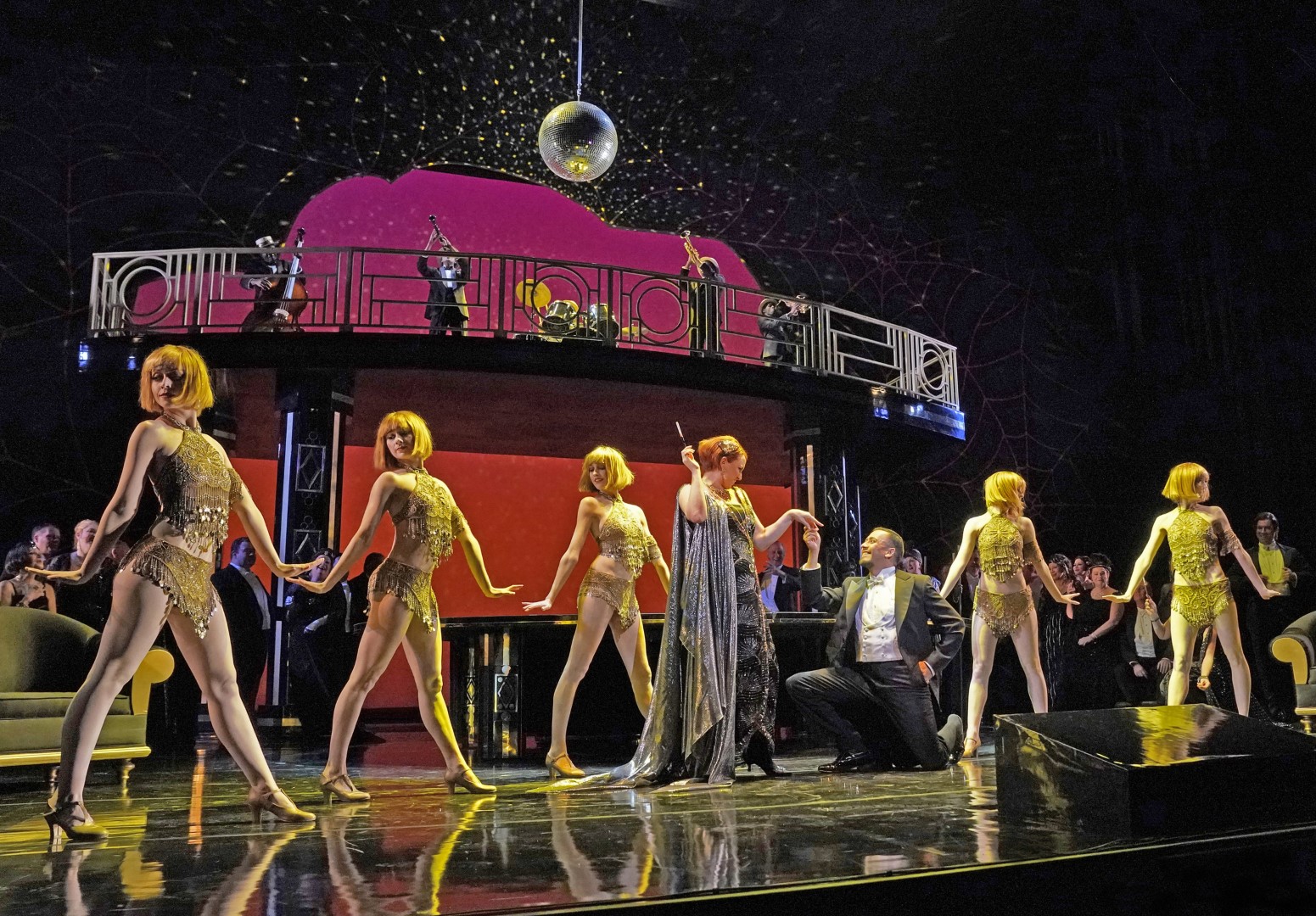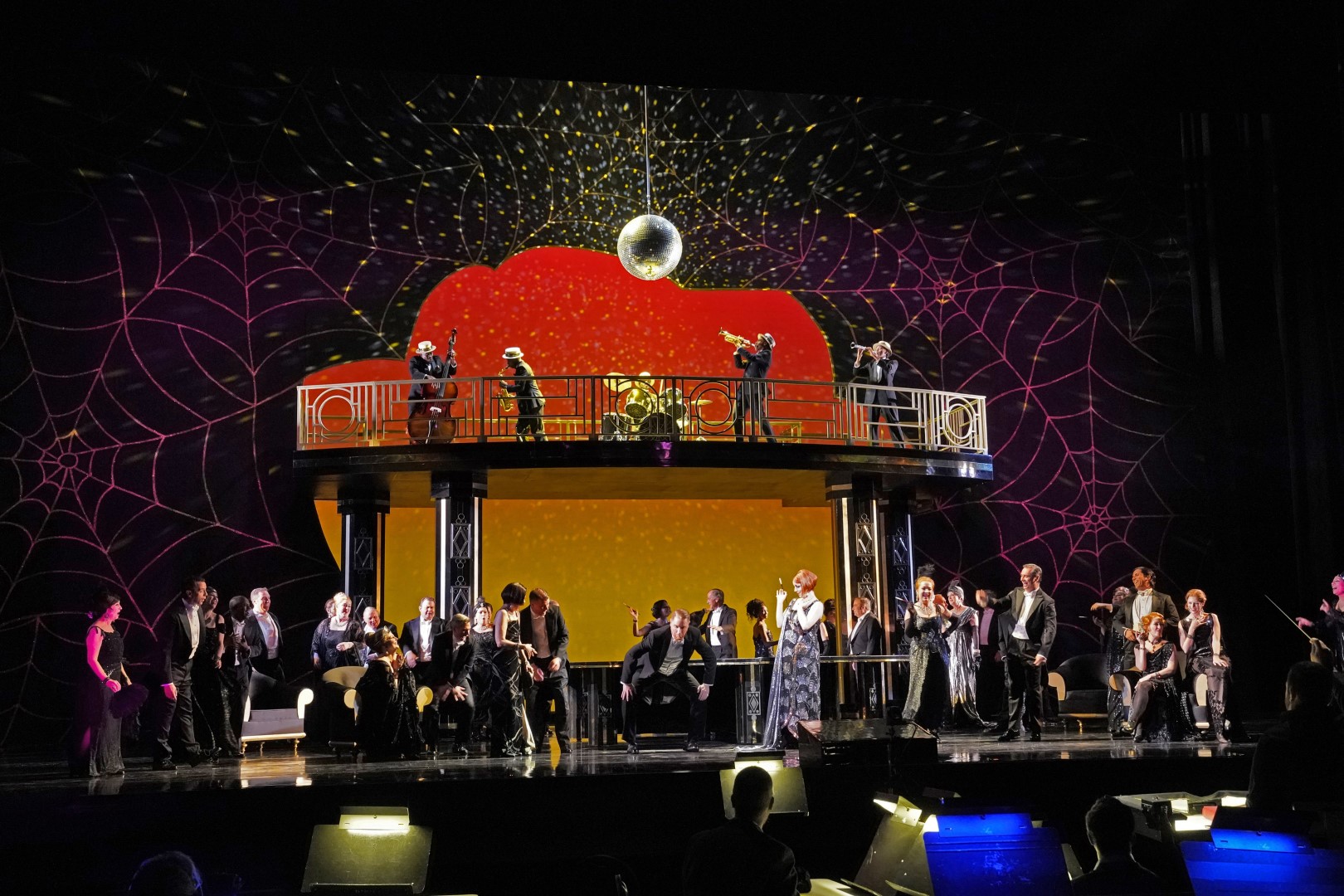 In contrast to the epic, monumental scale of the Clemenza di Tito, L.A. Opera's new production of La Traviata is no less visually stunning, but in a smaller and chic Art Deco package as glamorous and luxurious as a finely-crafted Louis Vuitton bag. Updating the action to the 1920's Paris, this Marta Domingo-directed and designed production would find a perfect home in the Art Deco Théâtre des Champs-Élysées. As seen at the modern, utilitarian Dorothy Chandler Pavilion, however, the rich and gleaming Art Deco sets evoke the glamour of Garbo, Swanson and other screen goddesses of Hollywood's Golden Age, a pre-Great Depression era full of unabashed extravagance and exuberance.
As stage director, Marta Domingo knows how to create chemistry where there's none, and unleash high emotions from the most predictable situations. In the Act II encounter between Violetta and her lover's disapproving father Germont, the emotional core of the opera, there was an initial lack of chemistry between Ms. Zaharia and Mr. Bilyy, but as the duet progressed, the two opposing characters, reacting strongly and sympathetically to each other's lines – against a shimmering background of metallic Art Deco trees and falling leaves – made this scene a thrilling twenty-minute emotional roller coaster ride.
Romanian soprano Adela Zaharia is a riveting Violetta, a 'strayed woman'/prostitute of the opera's title who, despite dying of tuberculosis (not helped by her sleeping in the snow in Act III), sings brilliantly in her Act I 'Sempre libera', passionately in her Act II farewell ('Amami Alfredo…'), and poignantly in 'Alfredo, Alfredo…' in the party scene. Her Act III 'Addio del passato', sung with frail and lovely tone, had many in the audience dabbing their eyes.
As Alfredo, Kosovo tenor Rame Lahaj sports a suave voice with an effortless top and occasional flashes of the great Alfredo Kraus, notably in his fine Act III duet 'Parigi, o cara' with Ms. Zaharia where he sings softly and tenderly, not overpoweringly like other Alfredos. The youthful Ukrainian baritone Vitaly Bilyy lacks the weight and gravitas to be a convincing père Germont in the Act II duet (starting from 'Pura siccome un angelo…'), but makes up with intelligent phrasing and nuanced singing in 'Di Provenza'. He also gets to sing Germont's oft-cut cabaletta 'Non non udrai rimproveri'.
It should be noted that Zaharia (2017), Lahaj (2016) and Bilyy (2004) are all past winners of Domingo's Operalia vocal competition. The remainder of the cast draw heavily from LA Opera's Domingo-Colburn-Stein Young Artist Program – Erica Petrocelli as Annina, Juan Carlos Heredia as Marquis d'Obigny, and others.
Conductor James Conlon conjures up some ravishing sonorities from the orchestra pit to complement the colorful Art Deco visuals onstage. He accompanies his singers with rapt intensity and makes the tragic orchestral preludes sound darkly luminous. It was with Traviata in 2006 that maestro Conlon started his tenure at the LAO. It's also the opera that got him hooked at age eleven. (His pre-opera talks are always illuminating for the laymen as well as connoisseurs.)
Honorable mention must go to choreographer Kitty McNamee, who transforms the traditionally gypsy dance in the party scene into a Gatsby-like dance party of flapper showgirls, a jazz band, and fashionable partygoers in their chiffons and velvet – wowing the audience with excitement of the Roaring Twenties. The L.A. Opera Chorus is top-notch as always and seem to be enjoying the party like those of us in the auditorium.
Additional performance dates of La Traviata are June 9, 13, 16, 19, 22.
Truman C. Wang is Editor-in-Chief of Classical Voice, whose articles have appeared in the Pasadena Star-News, San Gabriel Valley Tribune, other Southern California publications, as well as the Hawaiian Chinese Daily. He studied Integrative Biology and Music at U.C. Berkeley.