"Don Carlo" is one of Verdi's most undervalued operas. Apart from the difficulty of assembling a cast of four greatest Verdians, there is the problem of cuts and editions. To keep it simple, L.A. Opera opted for the popular 1883 Italian four-act version. More questionable is the decision to consolidate the four acts into two parts of Wagnerian length, separated by a twenty-minute intermission, barely enough time to run to the facilities.
John Gunter's stage sets of arched colonnade serve no real dramatic purpose, but are versatile enough to be configured into the cloister of a monastery (Acts 1, 4), a courtyard (Act 2 Scene 1) and the royal court for the Act 2 auto-da-fé. The grisly paintings of religious persecution above the arcade clearly show the reign of terror of the Spanish Inquisition. The best thing that can be said about the production is it's inoffensive.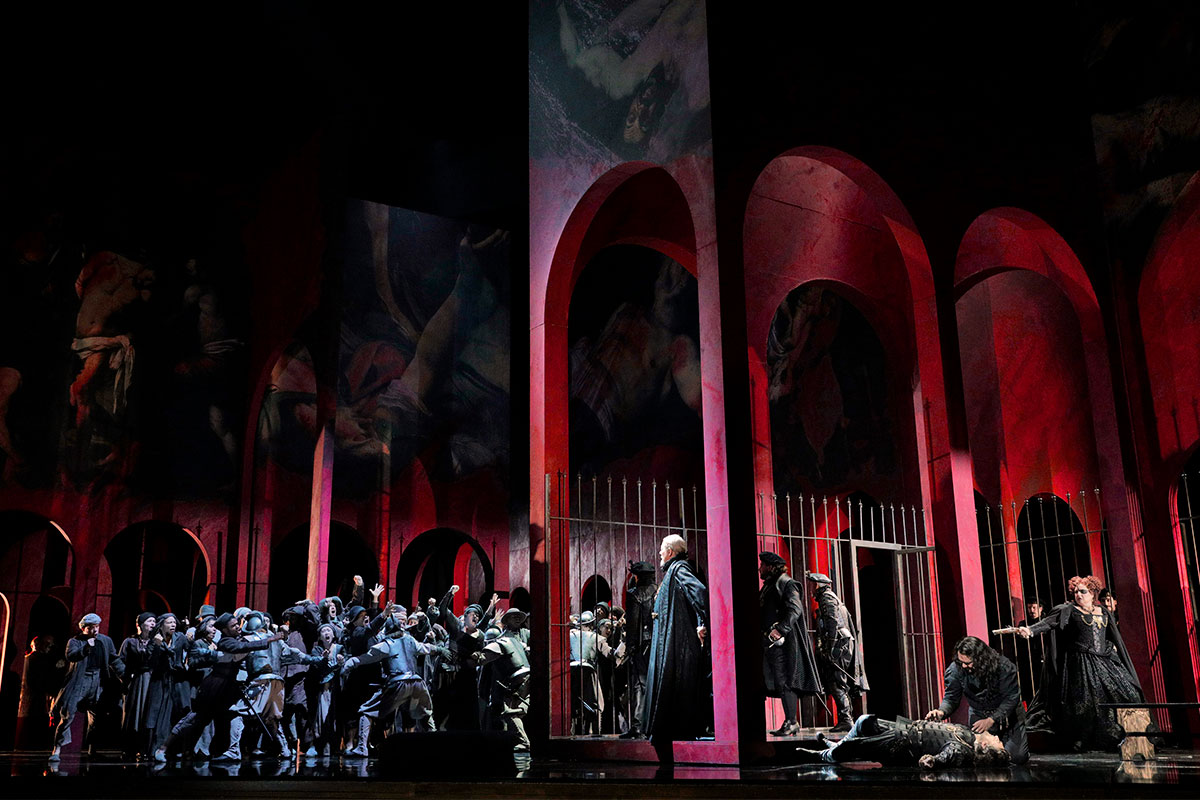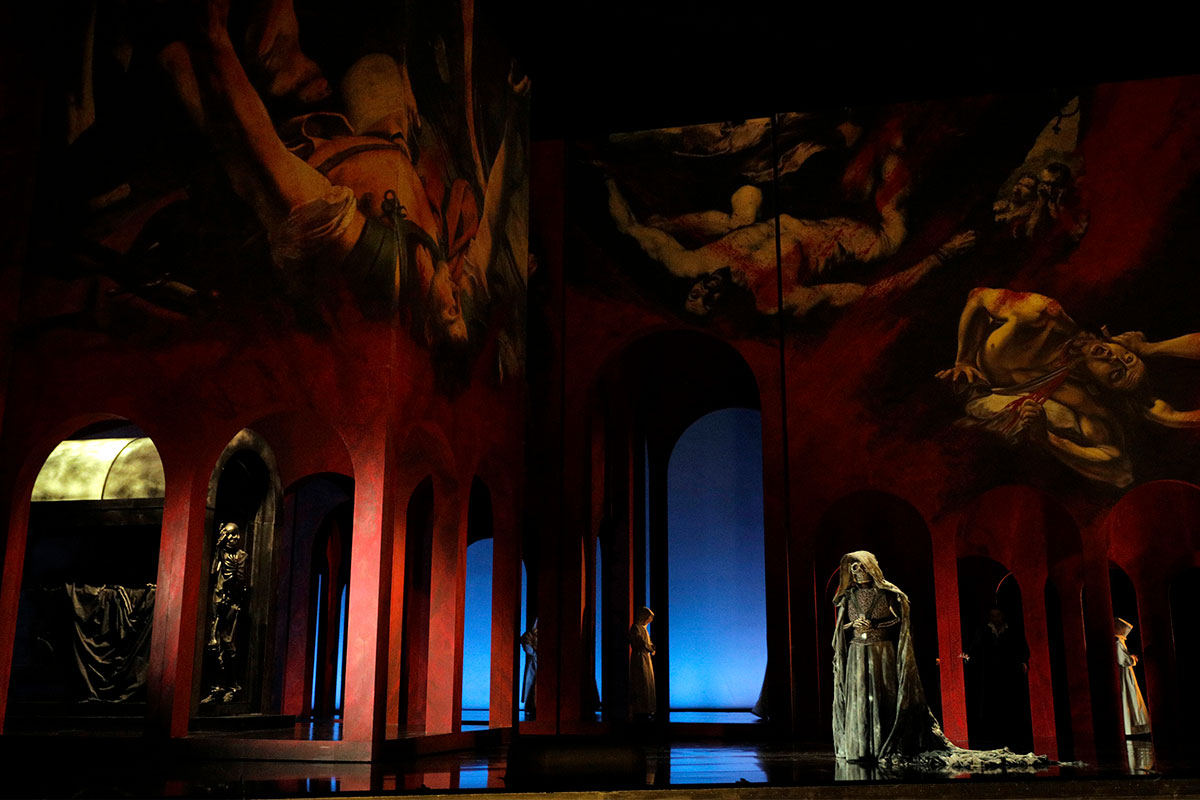 For most of the evening, the stage was dimly lit and the long shadows cast by the singers and props gave a suspenseful film noir effect, or the chiaroscuro of a Caravaggio painting. It was so dark and murky that when Mr. Domingo first entered, there was no applause to greet him because, even from my Row S seat, it was hard to see his face clearly.
The opera may be called "Don Carlo", but there can be no mistaking who the real star is – the Rodrigo of baritone Plácido Domingo. LA Opera patrons are fortunate to see Mr. Domingo in a new role every season, but mostly in age-appropriate roles such as King Nabucodonosor or Macbeth. This time, however, the stage magic of opera transformed Mr. Domingo into a young man of 30, and quite believably so.
At age 78, Mr. Domingo is neither the most elegant of Verdi baritones nor the most lustrous in his production of the high notes, but his tones are so personal, the expression so warm in humanity, that make his Rodrigo so memorable. Italian bass Ferruccio Furlanetto (King Philip II) is also greatness itself, singing with commanding authority and tortured nuance as a man torn between his guilt and jealousy.
Both Domingo and Furlanetto set a daunting standard for their fellow cast members, but all of whom prove worth colleagues: Morris Robinson's imposing Grand Inquisitor, Soloman Howard's Friar (or Charles V), Anna Smirnova's sumptuous-voiced Eboli (why is she wearing an eye patch?), Ana María Martínez's compelling Elisabetta, and Ramón Vargas' lightweight but passionate Carlo.
Honorable mention also goes to three members of LA Opera's Young Artist Program: mezzo-soprano Taylor Raven as Tebaldo, tenor Joshua Wheeker as Count di Lerma, and soprano Liv Redpath as the Celestial Voice (who had sung a full concert earlier in the afternoon with the LA Master Chorale).
As a French grand opera, this truncated Italian version of "Don Carlo" is missing the obligatory ballet and impressive mise-en-scène (except for Tim Goodchild's brilliant costumes), but retains a fine orchestra of the highest quality under maestro James Conlon – who had spent a decade as music director of the Paris Opera – and a top-notch chorus trained by Grant Gershon who made the Act 2 auto-da-fé a thrilling spectacle.
Come to "Don Carlo", but stay for Rodrigo!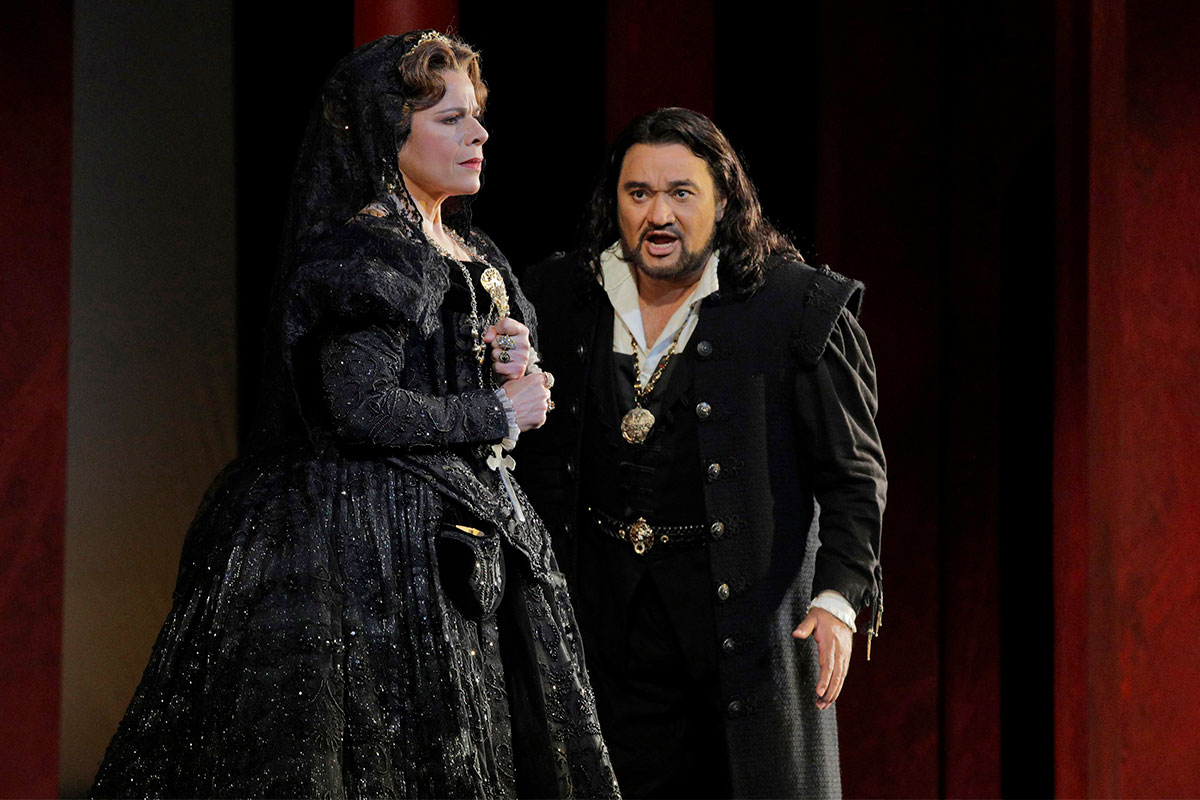 Five shows remain at the Dorothy Chandler Pavilion on 9/29, 10/4, 7, 11, 14 and a concert performance at Chapman University's Musco Center on 10/1. The 9/22 opening night performance was transmitted live in HD to Santa Monica Pier and Sylmar's El Cariso Community Regional Park.
Truman C. Wang is Editor-in-Chief of Classical Voice, whose articles have appeared in the San Gabriel Valley Tribune, the Pasadena Star-News, other Southern California publications, as well as the Hawaiian Chinese Daily.