By Truman C. Wang
Monday, May 16, 2016
All photos by Ken Howard / L.A. Opera
L.A. Opera's "La Bohème" opened Satuday night with great fanfare and anticipation for the L.A. operatic conducting debut of Gustavo Dudamel (for two performances only on June 10, 12). Somewhat lost in the shuffle amidst the PR bliz for Dudamel was another, no less significant, debut – a fast-rising female conductor Speranza Scappucci, whose name seems to evoke a delightful Italian dessert as well as a character from a Puccini opera. In this age of gender equality, the number of women conductors holding important posts can be counted on one hand. Naturally, all eyes were on Maestro Scappucci to do well and she did not disappoint.
There were many beautiful details in Scappucci's conducting that brightened up Puccini's familiar score. The taut, driving rhythms in the Act I Parisian apartment gave way, at the drop of a baton, to a flowing orchestral melody of great warmth and beauty when the lights dimmed and Mimi entered the scene. And then, there were Scappucci's expressive arms weaving long wide arcs in the air, as if painting colors with her orchestra. Throughout the evening, Scappucci's conducting showed a clear, sharp contrast of rhythmic drive vs. lyrical warmth (in Acts I and IV scenes with Mimi and Rodolfo, and the Act III quartet), of exciting ensembles vs. delicate chamber music (in Mimi/Rodolfo's first meeting and Act II scene with Musetta), that made one sit up and listen as if hearing the opera for the first time. If one had any reservations, it was that Scappucci's over-reaching enthusiasm often rendered the smaller voices on stage inaudible.
Puccini's music, of course, is not new. Neither is the twenty-plus-year-old production by Herbert Ross, which I had first seen in San Francisco in the 1990's but which still drew oohs and aahs from the opening night audience thanks to the magic of the L.A. Opera's props department. I overheard comments about the Eiffel Tower looking nothing like the opera poster, but resembling the Watts Tower in East L.A. Perhaps the props department could work some more magic on that? Everything else about the production looked spot-on – the Bohemian Quarter, the atmospheric lighting by Duane Schuler that added a touch of poetry to Act III and the Act I finale (as the set slowly rotated away to reveal the Parisian skyline), and the handsome colorful period costumes by Peter J. Hall. For the Act II Parisian street scene, L.A. Opera pulled out all the stops, jamming it with literally a hundred-plus cast of children, chorus and supers, and capping the finale with a thrilling flag-waving hit parade of marching band and showers of confetti.
La Bohème would not be La Bohème without a few tears being shed. However, I found that a difficult proposition given this particular pairing of Mimi and Rodolfo. Soprano Nino Machaidze clearly has a strong, ample voice (having sung the lead roles in "Puritani", "Traviata", etc.) that seemed an unlikely choice for the frail, dying Mimi. Tenor Mario Chang is a relative newcomer, having just won the big 2014 Operalia prize, and possesses an exquisite but smallish 'tenorino' voice (in the best sense of that term). But together vocally, they make an odd couple, with Mr. Chang's voice often inaudible next to Ms. Machaidze's or alone behind the orchestra. I have no doubt Mr. Chang will excel in the operas of Donizetti and Bellini, where the orchestral writing is thinner and the tenor roles more exposed. Puccini's heavier orchestra requires a more hefty voice and/or a more sympathetic conductor, neither of which was in evidence this evening.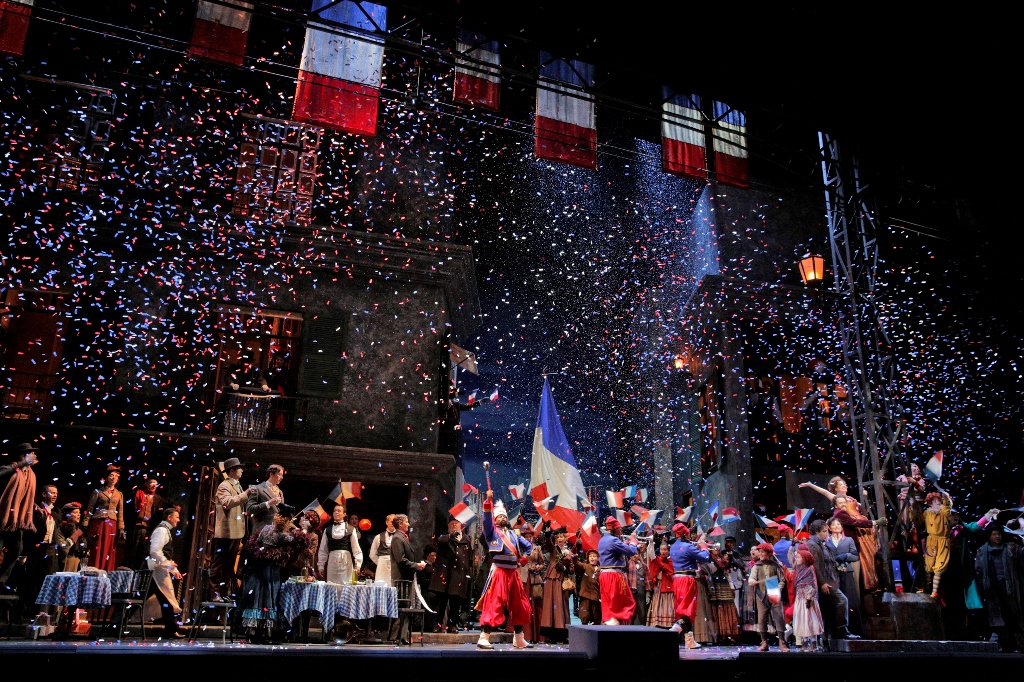 The remainder of the cast all acquitted themselves well – Giorgio Cauduro's warm lyrical baritone as Marcello, soprano Janai Brugger's delightfully vain Musetta, baritone Kihun Yoon's sympathetic Schaunard, and bass-baritone Nicholas Brownlee's Colline. Philip Cokorinos memorably played his comic double role as landlord Benoit and Musetta's rich boyfriend Alcindoro. The L.A. Opera chorus joined forces with the L.A. Children's Chorus and a team of colorful acrobats to make the Act II an unforgettable crowd pleaser.
This Bohème may not make you cry, but it will definitely send you home smiling from the beautiful theatrical production. Two more pairings of Mimi-Rodolfo are available: Machaidze-Lasri (5/22, 28) and Busuioc-Lasri (5/19, 25) – for those of you seeking that cathartic three-hanky Bohème experience that eluded the opening night. Last but not least, Gustavo Dudamel's L.A. Opera debut (6/10, 12) will either make you cry or smile, depending on whether you can score the hot tickets or not.
Truman C. Wang is Editor-in-Chief of Classical Voice, whose articles have appeared in the San Gabriel Valley Tribune, the Pasadena Star-News, other Southern California publications, as well as the Hawaiian Chinese Daily.