Commissioned in 1978 and completed in 1979, "Satyagraha" was first staged by the Netherlands Opera in 1980 and brought to the US in 1981 at Artpark, New York. The spark behind Philip Glass's exploration into Mohandas K. "Mahatama" Gandhi came about during a trip to New Delhi, India in 1968, The Minimalist composer first became interested in Gandhi after being shown archival film footage of the Salt March protest. Glass later delved into the philosophy and practice of nonviolence Gandhi referred to as Satyagraha (with its multiple meanings as truth force, love force and soul force) and was musically influenced by globally renowned Indian sitarist, Ravi Shankar (1920-2012), whom he initially met in Paris in the mid-1960s while studying composition under Nadia Boulanger

Borrowing from the thematic approach in Kathakali Indian plays, Glass uses the Hindu scripture, Bhagavad-Gita (aka "The Gita") as an adaptative backbone in a Sanskrit libretto by Constance De Jong. The Gita's influence was wide-reaching not only of Indians but also of intellectuals such as Henry David Thoreau, Ralph Waldo Emerson, Carl Jung, J. Robert Oppenheimer, and Nobel Laureate, Herman Hesse (Literature, 1946).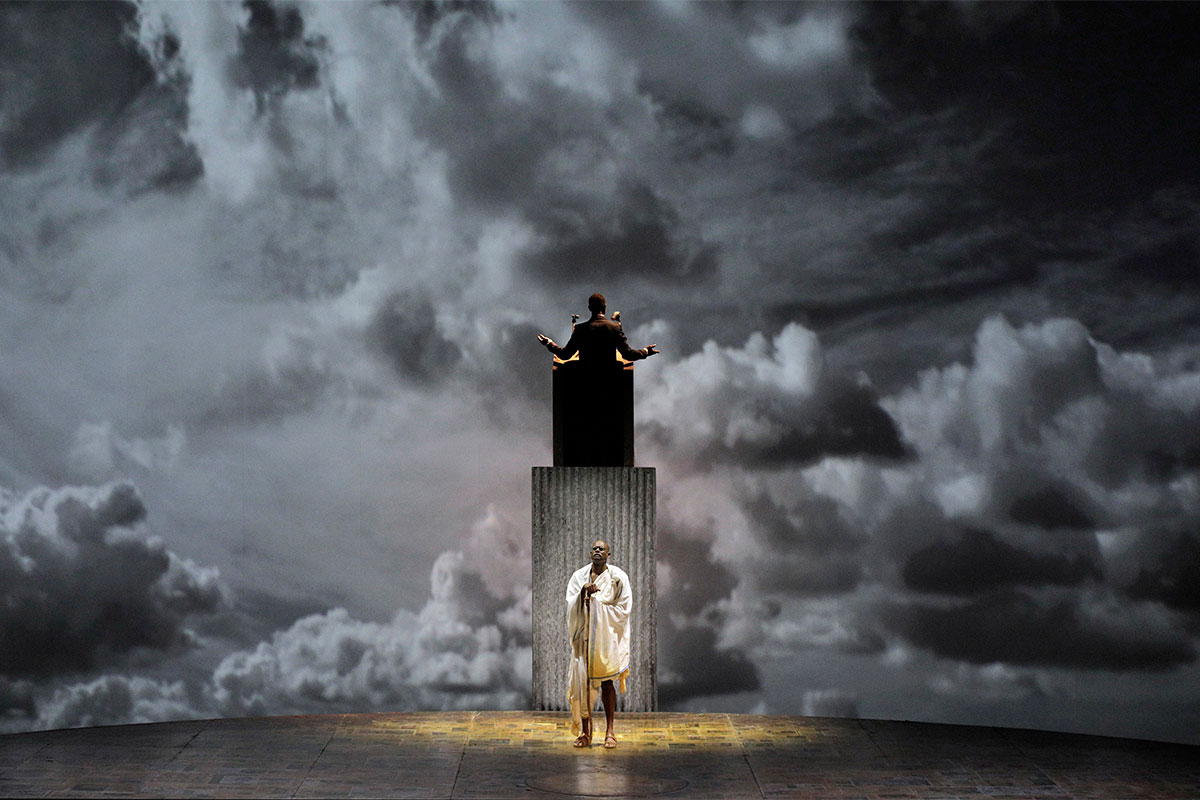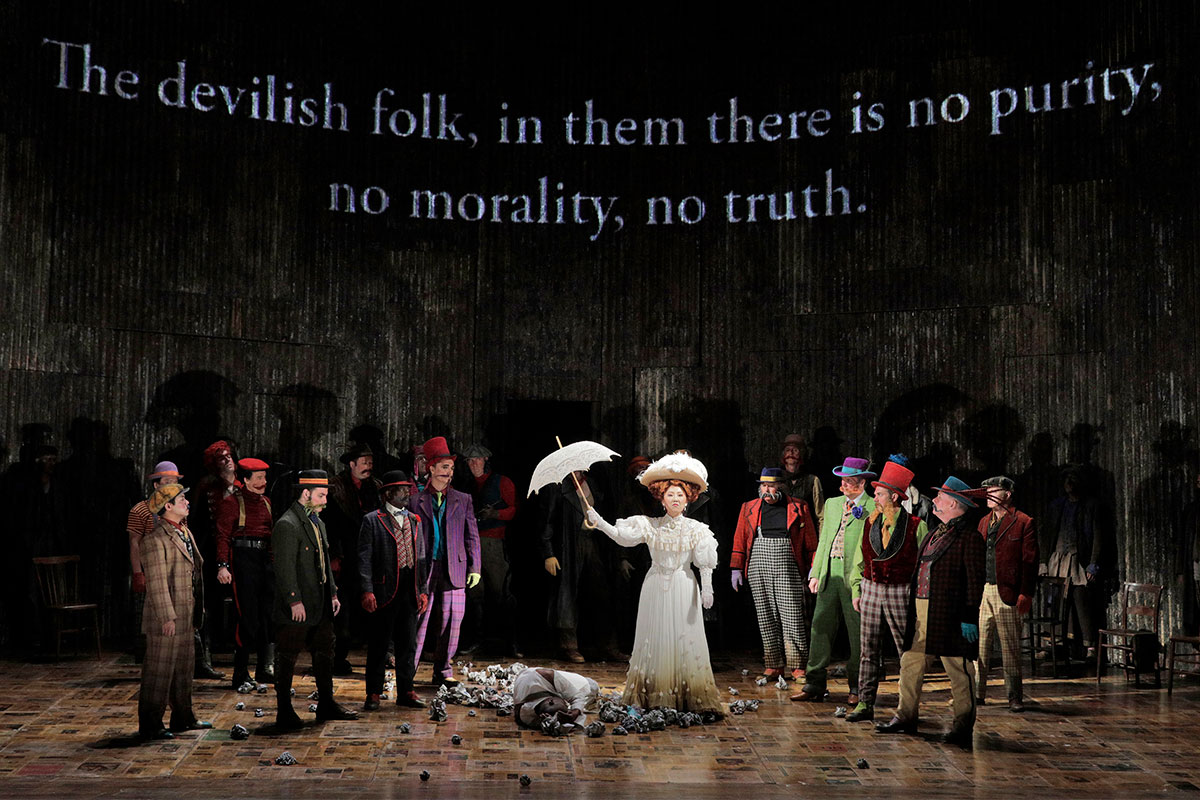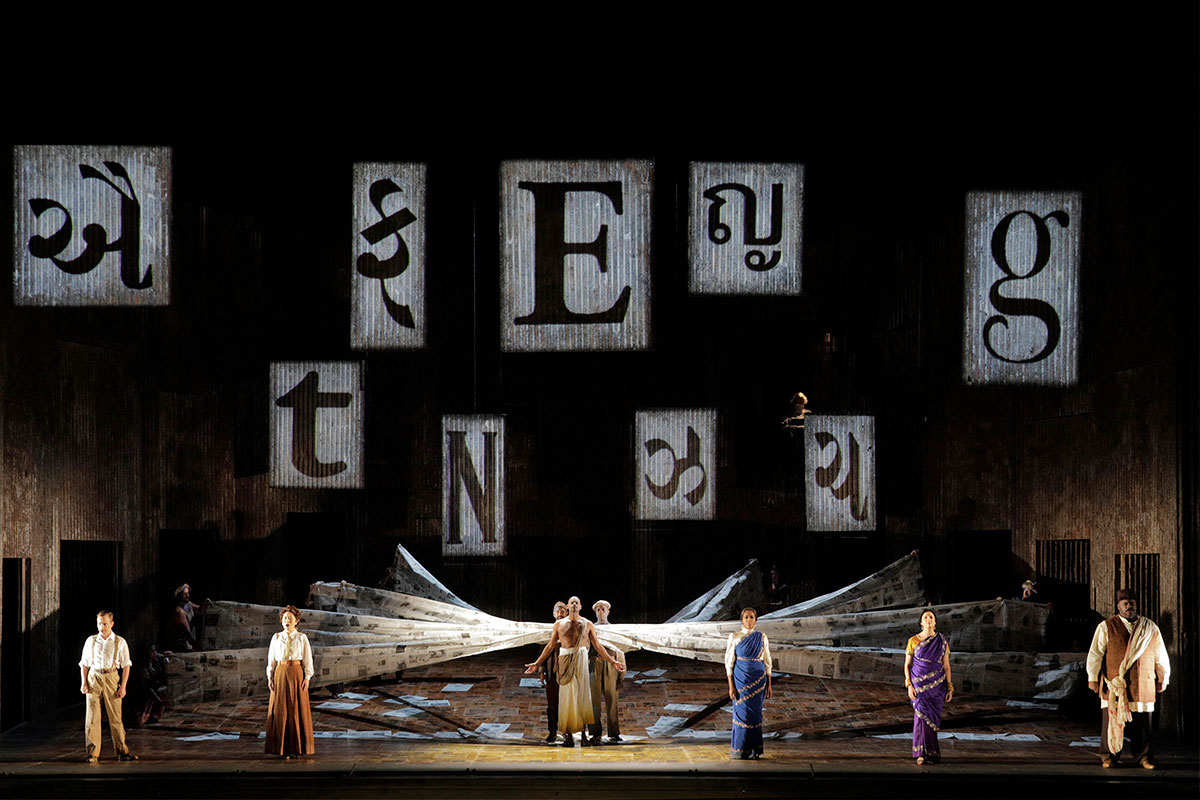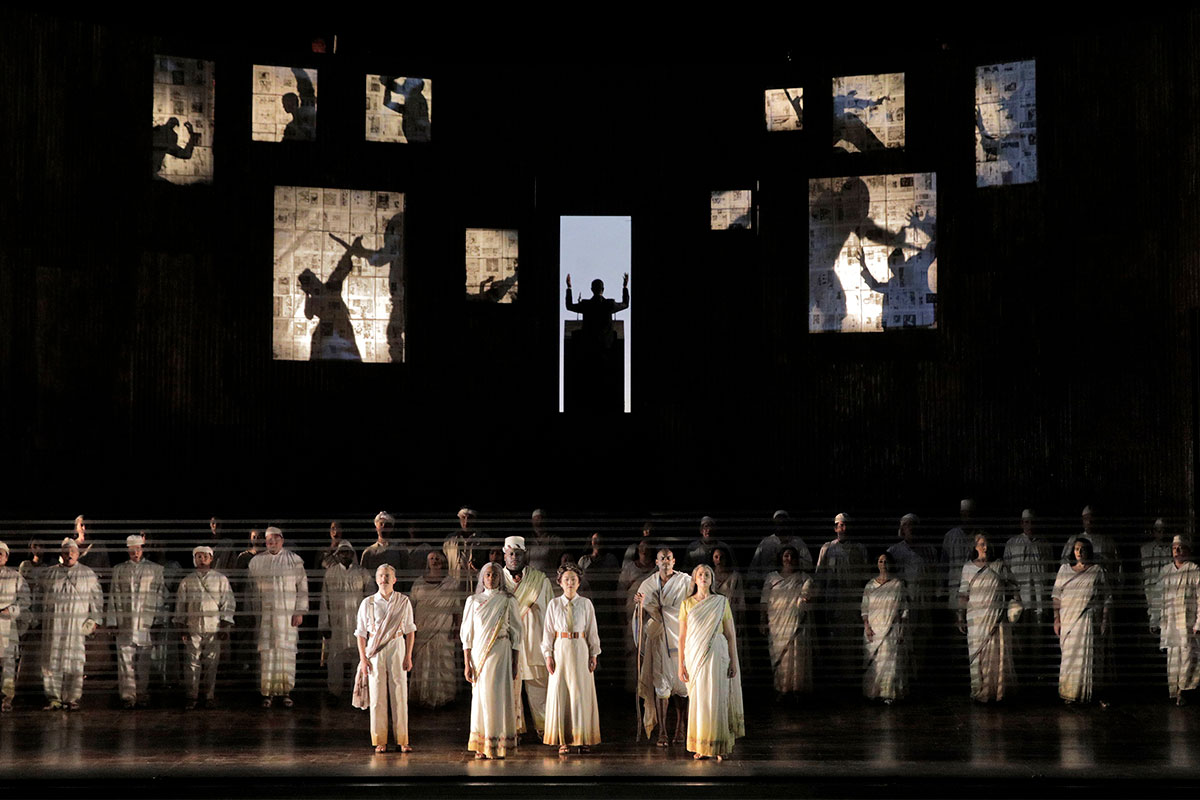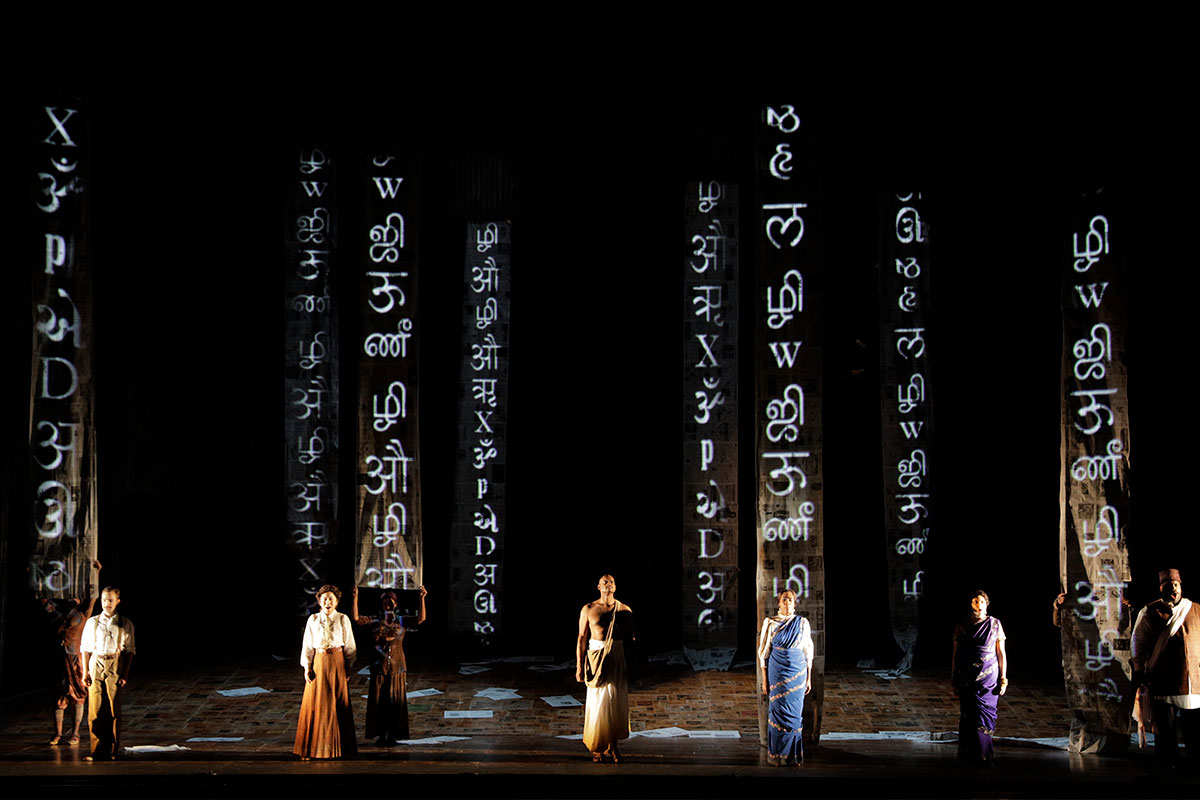 Focusing on the years Gandhi spent in South Africa from 1893 to 1914, Glass's opera is structured as a shifting spatial-temporal portrait of Gandhi paired with mythological heroes such as Lord Krishna and Prime Arjun from the Gita as well as historical figures Gandhi personally knew such as Leo Tolstoy, and Rabindranath Tagore, and to the continuation of his nonviolent legacy in Martin Luther King, Jr. "who argued that the Gandhian philosophy was 'the only morally and practically sound method open to oppressed people in their struggle for freedom'".

LA Opera's 2018 staging of Glass's "Satyagraha" is a down-to-the-details revival of Phelim McDermott's highly acclaimed production first unveiled at the English National Opera (ENO) in 2007 and later staged in the US at the Metropolitan Opera in 2008 with subsequent runs thereafter at the Met. ENO approached McDermott who was a co-founder of Improbable, an English theater company known for its innovative brew of improv, puppetry, comedy and storytelling often using seemingly ordinary or mundane materials for dramatically entertaining effect, the latter figuring prominently in newsprint in his operatic version of Satyagraha. Glass has referred to McDermott's recurring usage of newspaper throughout the course of the opera as "brilliant"
"Satyagraha" also requires the diverse and talented cast not only to act and sing Glass's challenging choral score, but to follow a type of choreography unusual to opera - for most of the 3 acts, the entire ensemble walk as if in a dream-like trance in a Westernized form of an Indian Kathakali story-play. This production marks the LA Opera debut of Sri-Lankan-American tenor Sean Panikkar as Gandhi. Avid followers of NBC's America's Got Talent most likely saw him in Season 8 during his participation as a member of FORTE, a crossover group combining classic and pop music. In a standout performance on all levels, Mr. Panikkar, hardly slight in stature in real life, captures the physicality of Gandhi as a young lawyer in South Africa who was assaulted by mobs, to his later years as an aging yet spiritually indomitable Gandhi clad in the humble attire of white dhoti loincloth and shawl marching forward with a cane.
Mr. Panikkar is joined in this dream cast by bass-baritone Patrick Blackwell as Lord Krishna, mezzo-soprano J'Nai Bridges as Gandhi's wife Kasturba, bass Morris Robinson as Parsi Rustomji. Rounding out the ensemble are a combination of Domingo-Colburn Stein Young Artist Program members such as soprano Erica Petrocelli (Mrs. Naidoo), baritone Michael J. Hawk (Prince Arjuna), mezzo-soprano, Niru Liu (Mrs. Alexander) and Program graduates including baritone, Theo Hoffman (Mr. Kallenbach) and soprano, So Young Park (Miss Schlessen).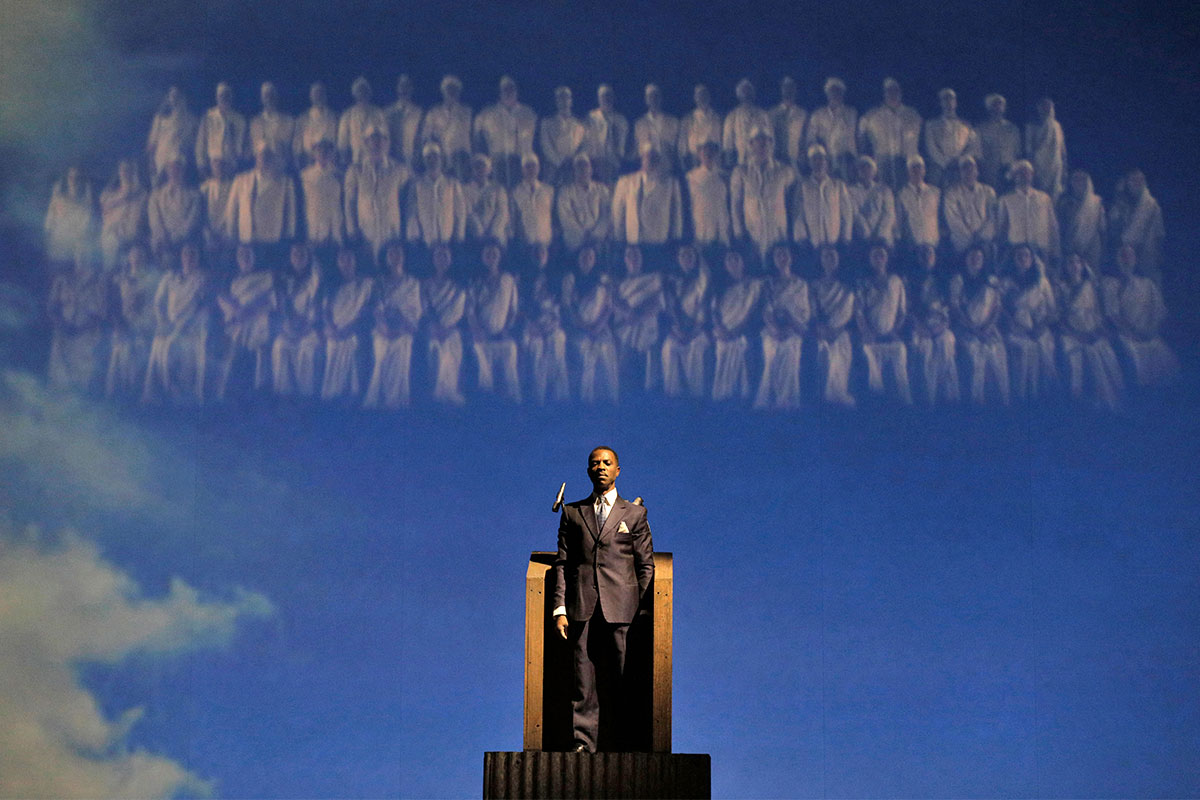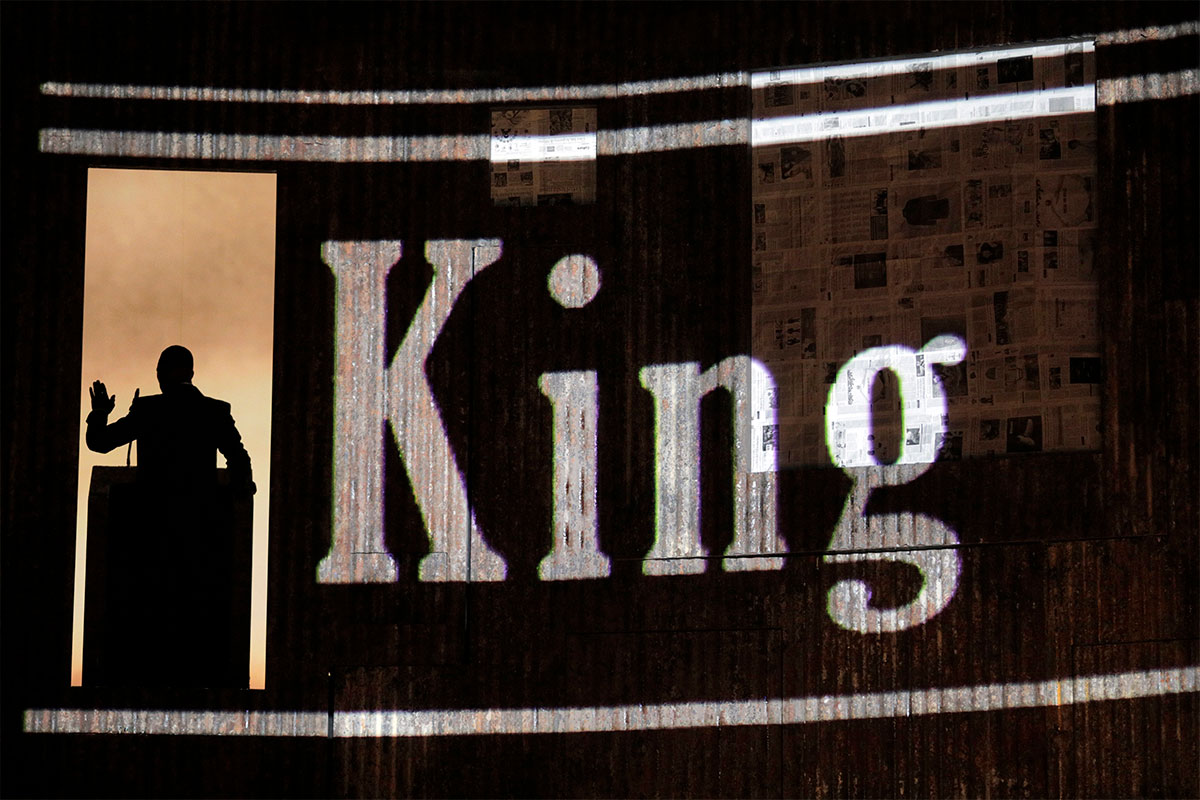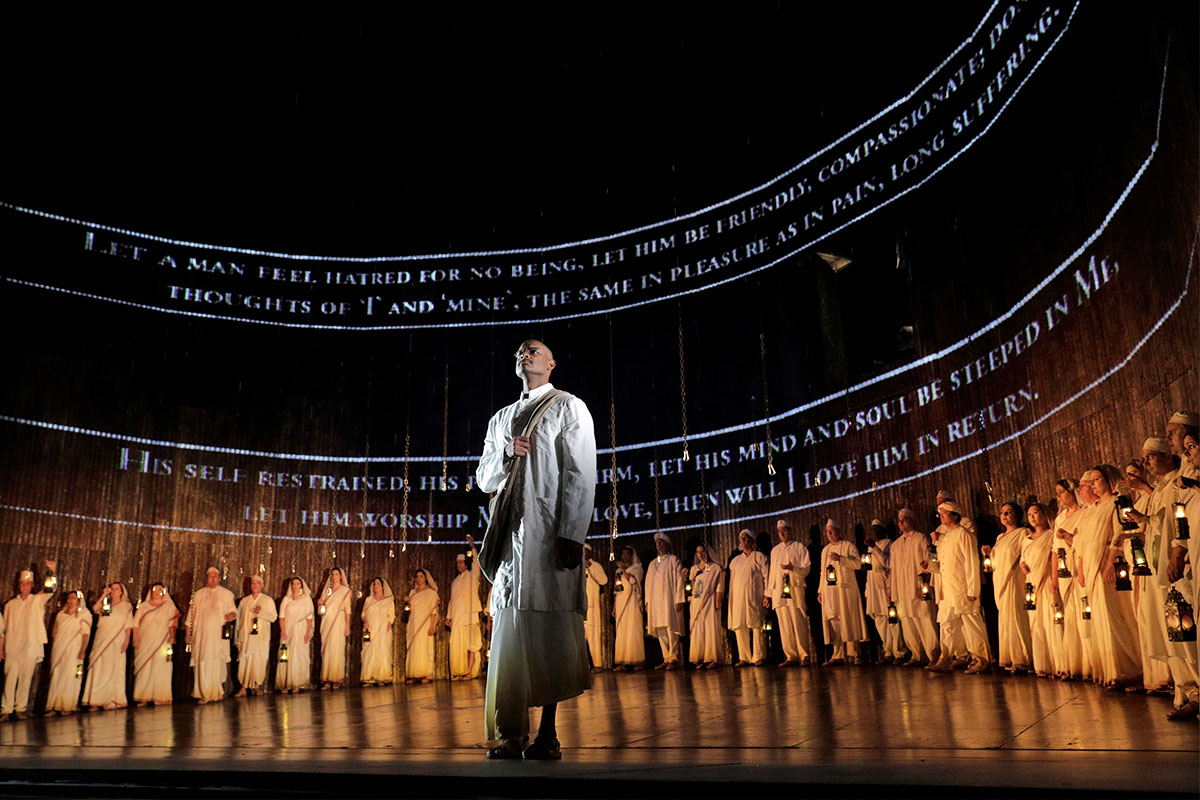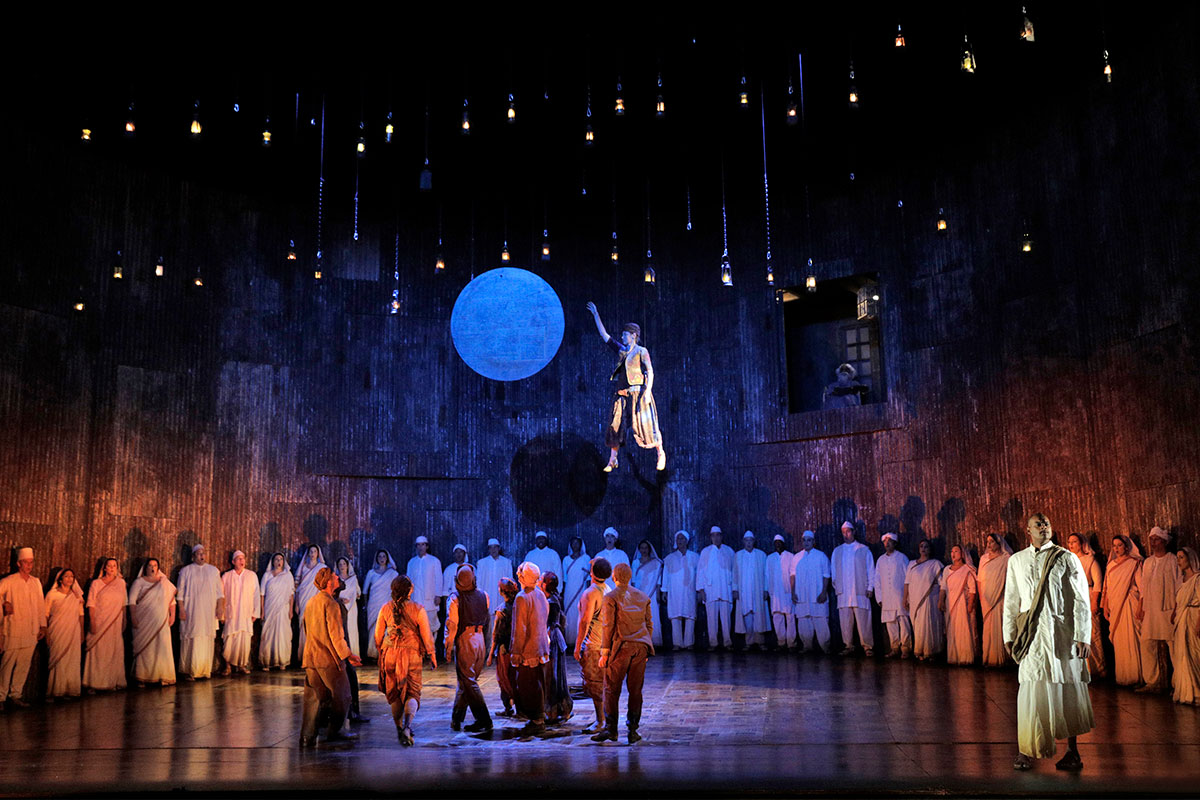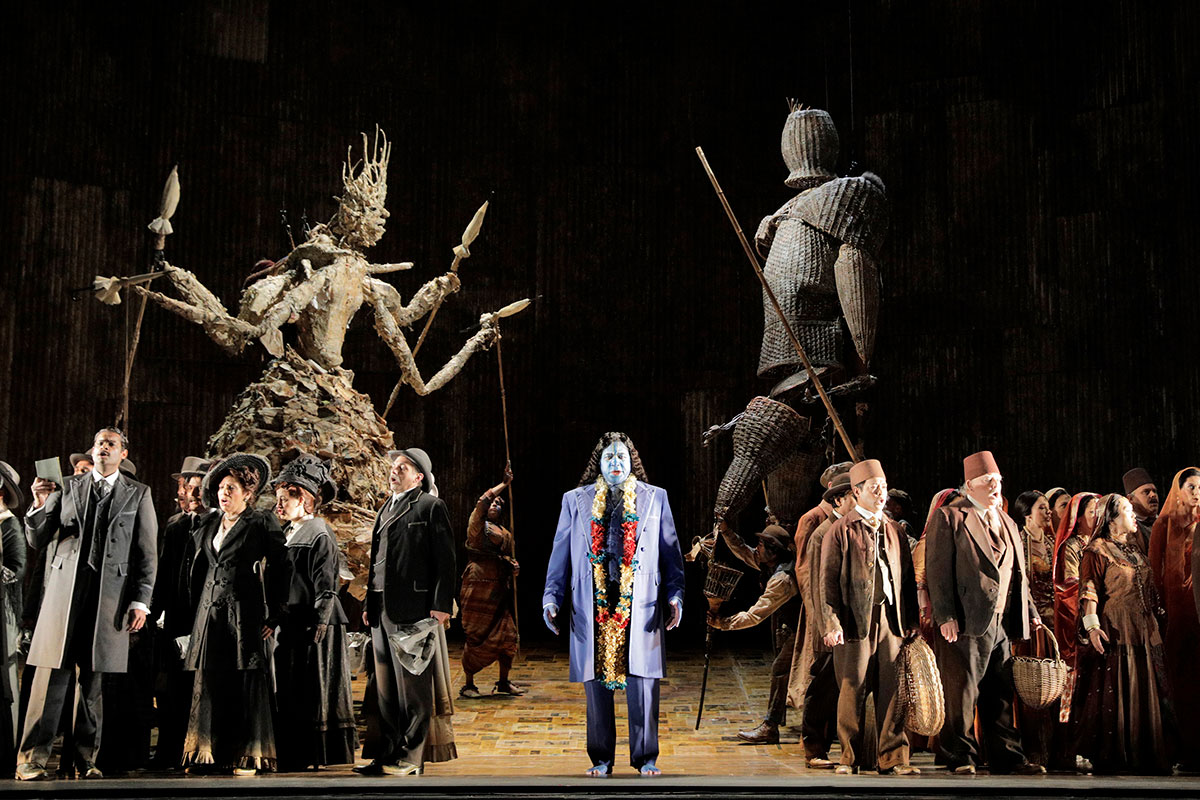 Conductor Grant Gershon, Resident Conductor of LA Opera, also displays his strengths as Artistic Director of L.A. Master Chorale eliciting strong ensemble work; he brings to life Glass's hallmark of repetitive patterns of beats through his direction of the LA Opera Chorus as the frightening and thunderous voices of a menacing South African mob surrounding and pelting Gandhi at the beginning of Act 2, Scene 1 to the thrilling end of Act 2, Scene 3 where Gandhi and his Satyagrahi followers burn their registration cards in a nonviolent protest.

Rather than pondering or lamenting how the world has or hasn't progressed since the times of Gandhi and Martin Luther King, Jr., Sean Panikkar's soaring final aria – buoyed by the strings echoing the sound of the sitar and Glass's distinctive arpeggios and melodies – leaves the audience with a hopeful reminder of the struggle of nonviolence as a never-ending and intertwining dance of past, present and future and that the light of Gandhi's nonviolence exists within us all, friend or foe.

Two performances of "Satyagraha" remain on November 8, 11.
Elizabeth H. Onodera is a native San Franciscan. A translator and a researcher, she also writes about food and culture in various social media outlets as 'foodshutterbug'.